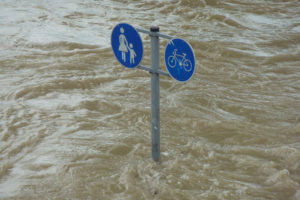 Fine print can be a pain to read, let alone understand. But when it comes to protecting your home, family and budget, your homeowners insurance policy—also known as an HO-3—is one document it pays to scrutinize.
People are often surprised by what's not covered by a homeowners insurance policy, and an emergency or disaster is the worst time to find out you've fallen into a gap. Here are a few categories to consider when deciding which kind of policies you'll need for the best protection.
Earthquakes, sinkholes and "earth movements" aren't covered under standard policies. Earthquake coverage can be obtained through a separate policy.
Floods, including mudflow, are often only covered by a separate policy through the government-run National Flood Insurance Program.
Mold, sewer backups, burst pipes and other maintenance issues are often not covered, or are limited in their coverage, especially if neglect or defect was the cause. Additional policies can often be available, but regular maintenance and prevention can further protect your home.
Termite, insect or rodent infestations aren't covered and are best addressed by a licensed pest control professional.
Dog attacks are often treated differently according to breed. Some policies won't cover "high risk" breeds, or limit coverage if your dog has previously bitten.
Trampolines cause a high number of emergency room visits every year, and will often require separate policies, if covered at all.
Jewelry and fine art might have limited coverage under standard policies and will need a separate insurance rider that lists each piece individually.
Simultaneous catastrophes like hurricanes may cause two or more kinds of damage. Wind might be covered but flooding not. Extra coverage is required.
War, nuclear accidents and terrorist attacks aren't covered by standard policies.
These are just a few categories to consider when purchasing your homeowners policy. Work closely with your agent to read and understand what is or isn't covered, so you aren't left out in the cold in a time of need.
Whether you're buying a new home or changing existing coverage, we're insurance experts. Home, renters, auto and business—we've got options to keep you protected. Give us a call today.