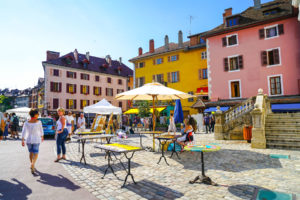 While vacations provide an opportunity for fun, relaxation, exploring and adventure, they are not without their potential perils. Don't be a victim on vacation—a little advance preparation can go a long way.
From cancelled flights to lost luggage, pickpockets to medical emergencies, a lot can happen when you are far from home. While we don't want to spoil the fun, taking a few precautions before you go will help you relax more later.
Pack Smartly
You can avoid or minimize some mishaps with a few pro packing tips:
Try to leave valuables, such as expensive jewelry at home. If you are bringing items of value, pack them in your carry-on luggage and not your checked baggage.
Pack hard-to-replace items in your carry-on as well. Things like medications, contact lenses or glasses and documents will be a hassle to replace if your luggage is lost.
Review the Transportation Security Administration's travel checklist to avoid being held up or having any of your belongings confiscated at the airport.
Invest in pickpocket-proof clothing and bags or backpacks. Thieves look for easy targets, so avoid looking like one.
Be Vigilant
No one wants to spend their vacation looking over their shoulder, but it pays to be extra aware in unfamiliar surroundings.
Familiarize yourself with the place where you are staying and its surroundings. Take note of emergency exits, door locks and the closest medical facilities. Ask the hotel staff, your tour guide or other locals if there are places or activities that you should avoid—as well as those you shouldn't miss!
Take your environment into consideration. Apply sunscreen often in sunny locales; drink plenty of water in hot temperatures; ask what's in local dishes if you have food allergies; dress for the weather. You don't want to spend your vacation recovering from something that could have been avoided.
Listen to your gut. If something feels unsafe, say something or make other arrangements.
Insure What's Important
Vacations can be expensive. Whether you're heading to a theme park for a family getaway, a retirement trip around the world, or across the country for your college reunion, you've likely invested some savings into your trip. If so, talk to your insurance provider about how to protect your investment. Options include:
Travel medical insurance, which can cover everything from trip cancellation due to illness or injury to costs for care while traveling, medication replacement, emergency evacuation, accidental injury or death and more.
Baggage and personal effects coverage to cover your belongings in case of loss, damage or theft. Your homeowners or renters insurance may cover some instances, and airlines or tour companies may cover others, but it's a good idea to find out.
Trip cancellation insurance can reimburse you if you must cancel your trip for certain specific reasons, like your illness or a death in the family. Be sure to understand what constitutes a covered cancellation reason. Cancellation waivers offered by some airlines, tour groups or cruise lines are not the same thing and often have a lot of restrictions.
Insurance for inconveniences like cancelled or delayed flights, missed connections, lost luggage and more. If you will be renting a car, you'll also want to check what is covered in your auto insurance policy.
If you are planning a trip, contact us in advance to see what, if any, extra coverage we recommend so you can better relax and enjoy every moment. And hey, don't hesitate to send us a postcard!