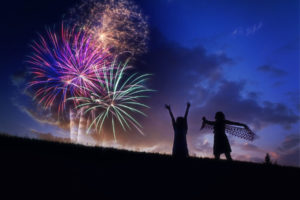 One of our nation's founding fathers had an early inkling of the importance the signing of the Declaration of Independence would assume in coming years. As John Adams wrote to his wife Abigail, "[The holiday] ought to be solemnized with pomp and parade, with shows, games, sports…bonfires, and illuminations, from one end of this continent to the other, from this time forward forever more."
For 243 years, Americans have taken heed, marking the day with fireworks and backyard barbecues. We're here to help you ensure the smoothest celebration for both activities with our top ten Fourth of July safety tips.
Go Pro for Peace of Mind
Massachusetts has strict laws banning all consumer fireworks for good reason—they cause more than 50,000 fires a year. You may think sparklers are a harmless option, but they cause 25% of fireworks-related emergency room injuries, and are illegal in the state as well. If you find yourself around fireworks this year, keep the following tips in mind:
Leave fireworks in the hands of licensed professionals—they'll put on the best display, allowing you to kick back with loved ones and enjoy the spectacle.
Keep fireworks—including sparklers—away from young children.
Keep a fire extinguisher, buckets of water and a running water source nearby in case of fires.
Fireworks are no mixer for alcohol—drink responsibly and choose a designated driver.
Fireworks can make pets panic and flee the noise. Shelters see a 30–60% spike in lost pets over the holiday, so keep them safely inside.
Get Your Grill On with Fourth of July Safety Tips
The holiday wouldn't be complete without hot dogs and burgers on the grill. But just as with fireworks, you'll want a water source—like a working garden hose—nearby in case a fire breaks out. Keep your home intact, and friends and family members out of the emergency room, with these further tips:
Check gas grill hoses for leaks, holes or cracks.
Remove grease and fat buildup from under-grill trays.
Grill a safe distance from buildings, overhead branches and deck railings.
Designate a three-foot safety zone around the grill for children and pets.
Don't wear loose clothing or bend over an open flame when grilling.
In the event of injury or fire-related property damage, call 911 and seek prompt medical attention.
With these tips, you can keep your home and family safe this Fourth of July holiday. Your protection is our passion—we'll safeguard you with home, business, life and other insurance options. Feel free to contact us to learn more, and celebrate this summer in confidence.