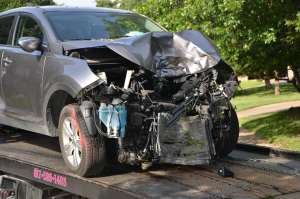 You've finally purchased your new set of wheels, but before you can hit the open road, you'll need to acquire auto insurance to keep you and your car covered in case of an accident. If you're involved in a fender bender, it could be one of the costliest experiences of your life, so you want to make sure you purchase the proper amount of protection. In this month's blog, we'll navigate the basics of auto insurance coverage and what's included.
The Basics
The type and amount of protection you'll need varies, but these are the basics you should know:
Liability coverage is legally required in almost every state. It covers the other driver in a crash you cause, and it includes injury and property damage. For example, a 25/50/10 plan means your coverage will extend up to $25,000 per individual injured in an accident, $50,000 for all persons injured in an accident, and $10,000 for property damage. These policies vary by carrier.
Collision coverage covers damage caused in a crash, while comprehensive coverage protects from damage due to weather (such as flooding) or other events (e.g., fire), as well as theft. Collectively, these two types of policies are referred to as "full coverage."
Other plans include uninsured motorist coverage, which protects you and your vehicle from damage caused by people without insurance, and medical payments coverage, which handles select costs for injuries you and your passengers sustain in a collision.
Minimum Massachusetts Insurance Requirements
Massachusetts state law requires all drivers to carry a minimum amount of car insurance. The bare minimum insurance necessary for Massachusetts drivers is a 20/40/5 plan, along with $8,000 in personal injury protection. For residents, only two types of personal injury protection options are available: policyholder and household. Policyholder only covers those people named on the policy, while household covers them and any other members of your home. Massachusetts doesn't require additional coverage such as collision, comprehensive or uninsured motorist. However, supplementing the minimum requirements stated above can help protect you from a monetary loss. Massachusetts is a no-fault state, which means your insurance will pay your injury claims up to a specified amount, regardless of who caused the accident.
Does My Insurance Follow the Car or Driver?
Whether insurance follows you or your car depends on many variables, mainly the kind of coverage being referred to. In general, your auto insurance follows your car instead of the driver, but the specifics can differ since insurance laws and coverage vary by policy, plan and state.
Does My Car Insurance Cover Rental Cars?
The limits and deductibles on your car insurance policy typically still apply to your rental car, as long as you drive it for personal use. If it's a commercial or business rental, your personal insurance coverage may not apply. Basic car insurance will cover you in the event you cause injury or property damage while driving a rental. Comprehensive and collision coverage will guard against damage to the rental car itself. If you don't have those two protection options, consider opting for the loss-of-use waiver offered at the rental counter, which typically costs $9–19 a day and offers the most protection.
Your Friend Wants to Borrow Your Car; Are They Covered?
As we stated above, car insurance generally follows the car, not the driver, so if you lend your car to a friend or relative, you could be liable if an accident occurs. In most states, comprehensive and collision (full) coverage protects your vehicle regardless of who's driving it. For instance:
If your friend causes an accident driving your car, you'll have to file a claim with your insurer, pay the deductible and possibly receive a rate increase from your policy carrier. If your friend has auto insurance, they might be responsible for any personal liability or medical expenses.
If your friend gets into an accident and isn't at fault, you won't have to worry about your insurance taking a hit. You can file a claim with the at-fault party's insurance, skip paying the deductible and get coverage for any damages to your vehicle.
If your friend is an uninsured driver and causes an accident, you could be liable for all of the damages, including medical fees for injured parties and property damage.
The same scenarios apply if you borrow your friend's car.
A Relative from Another State Wants to Borrow My Car; Are They Covered?
Generally, car insurance covers a driver from any state as long as they received your permission to operate the vehicle prior to use. However, the coverage and policy terms vary depending on your carrier and insurance options.
We hope this "crash" course on auto insurance helped you understand your policy better. To find out whether you're covered in specific circumstances and learn more about your auto insurance policy options, call us today!