Not every holiday fire is so delightful
Chestnuts roasting on an open fire… candles in the window... despite the lovely images they may elicit, some traditional holiday lyrics should carry a disclaimer: Don't try this at home!
We're not trying to dampen spirits (honest!); on the contrary, we want everyone to enjoy a season that's merry and bright. We just want to make sure the source of that brightness is a safe and well-controlled one. Many of the classic joys we associate with winter holidays—candles, decorative lights, indoor greenery and plenty of home cooking—are also classic fire hazards, making fire safety a key consideration this time of year.
First and foremost, be sure to test all smoke detectors regularly, and follow manufacturers' guidelines on battery replacement. Beyond that, help protect your home and family with these seasonal specifics:
Candle with care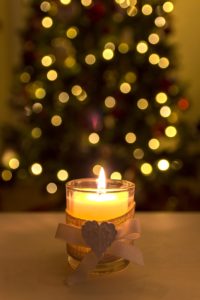 From traditional candelabra displays to living rooms fragrant with balsam and fig, candles are an important part of festive celebrations. It's no wonder December sees more candle-related fires than any other month; in fact, the Commonwealth of Massachusetts has designated the second Monday in December as Candle Safety Day (December 11 this year). Not surprisingly, however, Christmas Eve, Christmas Day and New Year's Day are the ones that lead the annual incidence.
Throughout December and every day:
Place candles at least 12 inches away from anything potentially flammable, such as decorations, curtains or towels.
Make sure every candle has a stable base, and place only on a level, sturdy and uncluttered surface.
Light candles carefully, staying mindful of loose clothing, accessories and long hair.
Be sure to extinguish any lit candles in the home before heading to bed. Avoid lighting candles in bedrooms.
Do not leave a lit candle unattended. Keep out of reach of small children, and never leave a child alone in a room with an open flame.
Never use candles in a home where oxygen is used.
When that flickering glow is all you need, consider using flameless LED candles; these can be amazing substitutes for a potentially dangerous flame.
Let your home be light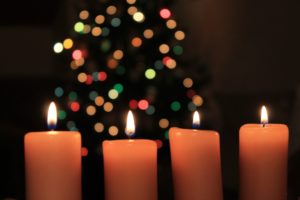 What would the holidays be without lights? Many households exhibit at least a few—or or a few thousand, between interior and exterior displays. As you plan your illuminations:
Inspect all electrical decorations before use. Do not use those with obvious wear or damage, such as frayed wiring or cracked insulation.
Never use outdoor-intended electrical decorations inside your home. If in doubt, check manufacturers' instructions.
Do not overload an outlet, extension cord or power strip.
Plug outdoor lights and decorations into an outlet equipped with a ground fault circuit interrupter (GFCI) outlet, designed to shut off when moisture is detected. (These outlets have "test" and "reset" buttons.)
Shut off all electrical decorations at the end of each evening.
 Prevent tree trouble
In addition to the lighting safeguards above, follow these tannenbaum-tempering tips:
Cut an inch or two from the trunk to ensure water absorption, and fill the stand with water daily; a dry tree is far more fire hazardous than a fresh one.
Situate your tree at least three feet from any heat source.
Never decorate a tree or other live greenery with potentially flammable materials.
Remember that artificial doesn't mean out of the woods, so to speak. If an artificial tree will adorn your home, follow all electrical safety measures and manufacturers' instructions.
Savor safety
Christmas Day is second only to Thanksgiving (more in last month's blog) in terms of cooking-related fire frequency, and all for a factor that applies to any major holiday celebration: a whole lot of cooking going on. Be sure to:
Monitor stovetop cooking at all times.
Set separate timers for checking food and turning off the oven or stove.
Use extreme caution with turkey fryers. Never use them indoors or near potentially flammable structures.
Keep loose clothing, potholders and any clutter (such as food packaging) away from hot surfaces.
Given the season's potential for various not-so-merry scenarios (despite your dramatic risk reductions), it's a wonderful time of the year to review your homeowners insurance policy. A representative here at the The Dowd Insurance Agencies can help ensure that it provides the right coverage for your situation, and at the right price.
Don't take chances with your home, sweet home. After all, for the holidays, there's no place like it.