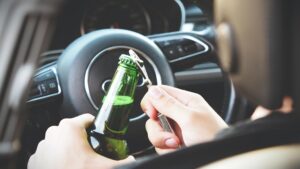 Getting into a car accident stinks. Even if no one is injured, you have to deal with costly repairs and, if you are at fault, a likely hike in your car insurance rates. But you may be surprised to learn that an accident isn't the worst thing that can happen to your rates. In fact, there are at least three things that impact your auto insurance more than accidents.
Raising Rates
Adding a teen driver can significantly raise your auto insurance rates because they are statistically at a higher risk of accidents. There are ways to help mitigate the increase, however, including investing in a driver's education course.
Driving under the influence of alcohol or drugs will earn you the title of a "high-risk driver" and net you higher insurance rates and other consequences. In Massachusetts, your rates will go up about 12 percent more than the national average.
Speeding and reckless driving can cost you safe driving credits that could otherwise be used to lower your auto insurance rates and can result in a rate increase. Auto insurance companies increase prices by an average of $1,192 annually after reckless driving. Insurance agencies check your driving record. If you have a history of citations, your rates will be higher, or you may find it difficult to obtain insurance through a private company.
Lowering Rates
The good news is that if you have a good driving record, we can help you to lower your auto insurance rates.
Bundling your insurance policies, such as home and auto, with one carrier will lower your rates overall. You may also qualify for multi-vehicle discounts.
Certain anti-theft devices and other safety features in your vehicle may qualify you for discounts.
Teen drivers may qualify for good student discounts and experienced drivers for safe driver discounts. You can also save with a AAA membership.
Certain preferred payment options, such as pre-payment or electronic fund transfers, can also help you save.
It's a good idea to schedule an annual auto insurance review with us so we can ensure your coverage still matches your needs and see if you qualify for any new discounts. If your needs have changed or if it's been more than a year since we've spoken, give us a call today.