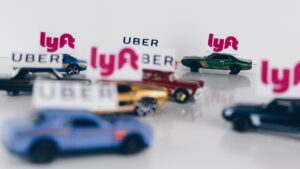 While the popularity of ridesharing took a hit during the COVID-19 pandemic, both the recently lifted restrictions and warmer weather mean more people will be returning to Uber and Lyft. Like all other methods of travel, accidents can happen—but who is responsible in the complicated legal landscape of ridesharing? In this blog we're examining rideshare accident liability, and what you should do as a passenger or as a driver.
Protection for Passengers
As a passenger injured in an accident involving a rideshare driver, you are entitled to receive compensation, which can come from three different sources:
Insurance coverage for the at-fault rideshare driver
Insurance coverage for another at-fault driver
Uber or Lyft's own car insurance coverage
If your Uber or Lyft driver did not cause the collision, the insurance policy of the other driver should cover your injuries. The situation is a little more complicated if your driver caused the collision—because their personal auto policy (which likely has a "business use exception") won't cover them while they're acting as a for-profit driver. That's where Uber and Lyft come in; both companies carry third-party liability insurance that pays up to $100,000 for personal injuries. These policies kick in after the driver's own policies have been exhausted.
Liability for Drivers
It's important to note that if you drive for Uber or Lyft you are not considered an employee. You are an independent contractor, which means you do not have commercial auto insurance.
While as a driver you are covered by the previously mentioned policy, you may need additional coverage. Why? Because ridesharing companies consider your time to be split into three phases:
Phase One: You have the app open and are waiting for a rider request
Phase Two: You have been matched with a rider and are on your way to pick-up
Phase Three: You currently have a passenger in your vehicle
As a driver, Uber's and Lyft's insurance generally cover you during each of these phases, but at different levels. And the coverage only kicks in after you've made a claim on your own personal policy. Since your policy is likely not for commercial use, your insurance company can deny your claim (especially if you haven't let them know you are a rideshare driver), and Uber or Lyft's coverage may not be enough to cover the total expenses, leaving you personally liable.
So, what can you do? Talk to us about your options, including rideshare insurance that can help you bridge a gap in coverage. We'll make sure you get the coverage you need at a price you can afford.