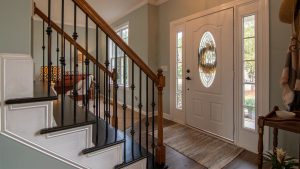 September is National Falls Prevention Month, an observation worth highlighting because it affects so many people. In fact, according to Age Safe America, falls are the leading cause of death due to injury for those over age 65, account for 40% of all nursing home admissions, are the leading cause of injury-related emergency department visits for older adults and are responsible for more than half of deadly head injuries. Beyond that, nearly half of all seniors who sustain a fall are unable to return to independent living. In previous years, we focused on falls prevention in the bathroom, during the holidays and throughout your home. This year, we're focusing on how to prevent falls on stairs.
Tread Carefully
Homes with stairs increase the likelihood of falls, especially for older adults. Fortunately, there are steps you can take to reduce the risks both indoors and out:
Install sturdy handrails on both sides of stairways
Ensure steps are even and secure
Keep exterior steps clear of snow, ice, wet leaves and other debris
Never store shoes, toys or other belongings on stairs
Install slip-resistant carpeting, both to reduce the risk of slipping and to help cushion falls
Add lighting to make sure stairways are visible when it's dark
Avoid placing tripping hazards near stairs, like throw rugs or electrical cords
Address medical issues or medications that may cause dizziness or lightheadedness
Perform exercises designed to improve balance and stability
Stair Safety for All
While the elderly are at greater risk of death or serious injuries from falls, no one is immune to accidents. That's why stair safety is important in every home, regardless of the age of its occupants. In addition, if someone is injured in your home after a fall due to your negligence, your homeowners or renters insurance will be impacted and you could be at risk for a lawsuit. The same is true for businesses.
Take some time this month to inspect all the stairs in and around your home or business to make sure they are as safe as possible to prevent accidental injuries. If you have any questions about liability coverage with regard to falls, don't hesitate to reach out.