Even a Simple Slip-And-Fall Can Cast a Pall on Seasonal Festivities
The last thing on your mind when you are hosting friends and family for holiday festivities is a serious injury. Accidents happen, but you can take steps to make your home safe for guests and avoid dampening the holiday spirit.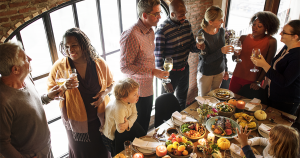 Safety Starts Outside
Snow, sleet and ice are no strangers in New England during the winter months, and they pose a whole host of dangers.
Make sure your driveway, walkways and steps are clear, dry and well-lit. If freezing is likely, throw down sand or salt on wet patches.
Remove snow drifts or icicles above doorways that could fall and injure someone.
Don't extend cords for holiday lights across sidewalks.
Control Clutter Inside
Holiday décor can be hazardous in the house, too, creating accidents waiting to happen.
Avoid errant electrical cords or decorations that could cause a fall.
Allow extra space around the table. Chair legs, especially those on lightweight folding chairs, can increase the risk of tripping.
It's fun to watch kids rip into packages, but take a few minutes to clean up afterward. Wrapping paper and presents are culprits in many slips and falls.
Guests arriving with wet shoes and boots may create slippery spots on the floor. Add a non-skid mat in problem areas.
Keep Your (Yule) Cool
Nothing adds to the warm ambiance of a party like light, including fireplaces, candles and twinkling lights, which is why the risk of fire increases so much during the winter.
Make sure candles are away from flammable materials, like holiday decorations and paper, and place them where they won't easily be knocked over or bumped.
Practice fireplace safety. Check and make sure it's clean and in good repair with a protective screen.
Be extra vigilant in a crowded kitchen. Turn the handles of pots and pans in. Keep potholders and towels—and children—away from the hot stove and oven. Have a fire extinguisher handy.
Don't overload outlets and extension cords, and avoid running cords under carpets, which is a fire hazard.
Make a List; Check It Twice
Before guests arrive, do a final check to ensure everything is in place to ensure a safe home. A few final considerations:
If your guest list includes children, look for areas that need childproofing. Sharp objects, glass decorations, poisonous plants, electrical cords and outlets are tempting to little ones.
Consider the safety of family pets as well as the safety of your guests. If your pet doesn't do well with commotion, strangers or small children, find them a safe place to prevent an unfortunate incident. Even the best-behaved dog may bite if anxious.
Elderly visitors are at increased risk of slips and falls, especially those who use a cane or walker. Consider appointing someone as their guide if necessary.
Homeowners insurance covers a variety of accidents, but it's important to understand your liability to determine if you need additional coverage for certain risks, or if there are steps you must take to ensure coverage. Even if you don't own your home, you may be liable for injuries within your rental, which is where renters insurance comes in.  Contact us if you have any questions. With a little bit of advance planning, you can enjoy a merry, bright and safe holiday season.