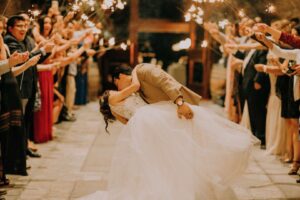 Getting married often means combining your lives in a multitude of ways. One thing to consider as you plan your wedding is how getting married will affect your insurance. We've broken it down here to explain what you should know about your insurance policies before you tie the knot.
Health Insurance
First, check to see if either of your plans covers dependents or if there is any surcharge for having your spouse on your plan if they have health insurance offered through their job. This could make the decision easy if being on your spouse's insurance is not possible or would cost you more than staying on your own. Pick the plan that works best for both of you and be sure to enroll within the first 60 days after you get married. You only have 60 days to make the change or you must wait for the next enrollment period.
Auto Insurance
Combining your auto insurance could save you some money and be a smart choice if you plan to drive the other person's car. The odds are, combining your policies will save you a bit of cash no matter what, but for a couple in their young 20s, the savings could be significant. Bundling your auto policies with your home or renter's insurance can also save you some money.
Homeowners Insurance
You should check in with your home insurance or renters insurance provider to see if they can offer a lower price on your rate or if there is a discount for married couples. And again, it is great to bundle your plans together to save even more and have all your policies with one provider.
Life Insurance
If you don't already have life insurance, a big life change like getting married is a good reason to get it. There are two main types of life insurance you will need to consider: term or whole. Term life insurance covers a specific period of time. For example, the length of your mortgage or until your children turn a certain age. Whole life insurance offers payouts your entire life, which typically makes it a more expensive investment. Having life insurance gives you peace of mind that your family will be taken care of should anything happen to you.
We can help with all of the above and answer any questions you may have about insurance before or after you tie the knot. Contact us to learn more about our policies and coverage and how we can help protect you and your spouse.