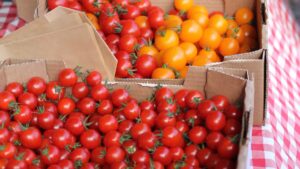 When you think of a farm, what do you picture? Acres and acres of corn or wheat sprawling off into the distance? If this is what you've envisioned, you're right—but not entirely. Anything as small as a backyard garden can be considered a farm and therefore a home business in need of insurance. Before the ground thaws and you get to planting, it's best to determine what, if any, coverage you'll need to protect your property and investment. In this blog, we'll help you in understanding farm insurance to determine whether your hobby or small business needs coverage.
Do You Need Farm Insurance?
You may be wondering: what exactly constitutes a farm and what type of coverage is needed? When income from your home farming business exceeds the "incidental income" threshold established in your homeowners policy, you're going to need additional coverage. This can come in the form of business insurance or special umbrella insurance.
For example, let's say you grow and sell tomatoes from your small garden farm, or you sell eggs produced by your chickens. Even if it's not your primary business, if the income is above the threshold allowed in your homeowners policy, you are not protected if someone consumes the product you sold them and they fall ill.
What's Covered?
Overall, your coverage should protect farm or business-related structures, as well as any equipment and machinery used to maintain the property. In addition, you'll need liability insurance, protecting your business from bodily injury to others, damage to the property of others, employment practices liability if you're employing staff and more.
How Can Dowd Help?
The first option is to consider a combination of home and business insurance customized and tailored to your needs, to ensure we cover your hobby-farm business or any other business that you operate out of your household.
Another option would be to consider adding personal umbrella insurance to your existing policy, as it sits atop your homeowners insurance to provide higher levels of protection, including for waterfront property, farms or ranches. We'll find the option that works best for you at the best possible price. Contact us today to see how we can save you money, no matter what path you choose—and, happy growing!