Everyone would love if their homeowners insurance was a little less expensive, but what if something as simple as making your home a little safer could bring you savings? Well with many policies, adding a home security system could lower your insurance. Having a home security system lowers the risk of break-ins and other catastrophes that would cause your insurance company to have to pay out a claim. So, many insurance providers will provide a discount to those who take the extra steps to install a security system.
What Should You Get?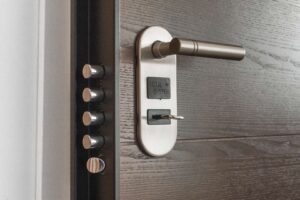 There are many options to help keep your home safe, and technology is advancing every day for what is an option for the average homeowners. Below are a few options that are proven to help keep your home more secure and offer a discount on your homeowners insurance.
A central alarm system with a keypad that must be turned off when entering the home.
Sensors on doors and windows to detect when they are opened.
Motion sensor-enabled cameras, either indoors or out.
Smart doorbell system with camera and microphone.
Fire, water and carbon monoxide detectors.
How Does This Save You Money on Insurance?
The average cost of a home break-in is over $2,000. Add to that what your insurance premium could increase with a claim, and you are out a decent chunk of change. Compare that to the average cost of a security system, which could deter a burglar or catch them in the act before they take anything, which is under $400.
By having a security system, you could save some big money on your insurance bill every month as well. Some policies will give around a 10 percent discount for having a security system. This discount will add up to hundreds of dollars each year, paying for the security system.
At Dowd Insurance, we look to get you the best coverage at the best price possible. Contact us today to see how we can save you money on homeowners or any other insurance.