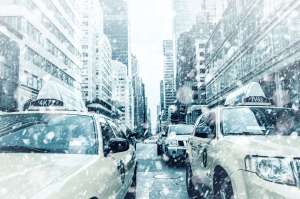 You might be familiar with the opening sequence of the movie National Lampoons Vacation. Clark Griswold and his family pile into the "family truckster," while the song "holiday road" plays in the background. If your family, like many, will be hitting the road to see relatives and friends this holiday season, you'll want to ensure your trip is a little less like the Griswold's adventure and a little more uneventful. Knowing the best strategies for holiday travel, whether it be by air or land, can ensure you reach your destination safely and in good spirits.
Avoid Peak Travel Dates and Times
According to the American Automobile Association (AAA), a record-breaking 47 million Americans traveled 50 miles or more away from their home over Independence Day, and predictions are already high for the holiday season, which starts at Thanksgiving and runs through the New Year. Avoid getting caught with millions of other travelers by knowing the best dates and times to hit the open road.
At Thanksgiving, Wednesday is the critical outbound "avoid" day as a rule. Traveling on Thanksgiving day is often a breeze and more affordable, and if you can fly home any day other than Sunday, you'll likely pay less. At Christmas and New Year's, the peak holiday travel dates change each year depending on which days the holidays fall. If you're not sure, using a search that lets you put in flexible travel dates will show you which combinations will ensure you receive the best deal. If you are flying, booking for a time earlier or later in the day guarantees greater success with on-time arrivals and departures.
If you can, you might want to avoid flying altogether. You get more flexibility and freedom, less stress and more time to bond with family members. Driving can also save more money, which means more presents!
Expect the Unexpected and be Prepared
Enter the holiday travel season with the understanding that it's going to be chaotic and you might run into unexpected problems. If you accept this is the case and you are still willing to travel, you will already be in a much better frame of mind to handle long lines and delays. Use long airport times as a chance to catch up on email and to connect with strangers, and nothing says quality family time than being stuck in bumper to bumper traffic. Think ahead by packing snacks, drinks and entertainment for your trip.
Pack Light
If you are flying during the season, avoid checking bags altogether if you can. You won't have to wait for your luggage in the company of hundreds of other weary travels and you won't have the stress of wondering if your famous fruitcake was squashed in-transit. If you do need to check luggage, make sure you have all your medications, important documents and a change of clothes with you, in case your luggage does get lost. Familiarize yourself with TSA rules about liquids and gels so you can breeze through security check points. And don't wrap gifts if you don't want your local TSA agent unwrapping little Johnny's new toy in front of him! If you are driving, the same rule also applies. While cars provide more space, you also need to factor in passenger comfort and whether all your presents will fit!
Do your Research and Plan Ahead
Plan alternative trips if traffic makes your way to or from your destination too overwhelming. Is there a scenic drive that might be longer, but guarantees less traffic? Break up a long drive by finding a few places to stop that will get the kids excited and will allow you to keep your sanity. When booking flights, check your search results carefully to ensure you have enough time during layovers and build in some time for unexpected delays and weather woes.
Prepare your Home and Car for Safety Before you Go
Before hitting the open road, don't forget to ensure your car and home are protected. Have your car inspected and/or serviced before leaving, gas up the night before you head out to make sure you have a full tank, and pack an emergency kit in the trunk. If you have a security system installed in your home, ensure that it is working properly, including all alarms, motion detectors, cameras and other monitoring equipment. If you can, have someone check on your home periodically while you are away, especially if you are leaving on a long trip.
The Dowd Insurance Agencies want to ensure you have a merry and bright holiday season. Whether you plan to travel by land or air, employing the strategies above will lead you to a stress-free celebration. This holiday, leave the worry to us. Call us today for all your insurance needs.