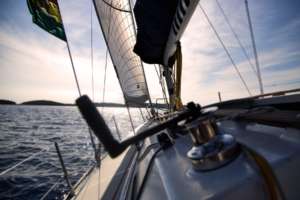 Author E. B. White once said, "If a man must be obsessed by something, I suppose a boat is as good as anything, perhaps a bit better than most. A small sailing craft is not only beautiful, it is seductive and full of strange promise and the hint of trouble."
For those of us living in New England, National Safe Boating Week, May 18–24, falls at an opportune time, reminding us that as much as being out on the water is relaxing and liberating, especially after a long, cold winter, it is not without peril.
Boating Savvy Tips
Take a few minutes to refresh your boating savvy with these timely tips:
Life jackets for all. Having them on board is not enough; everyone on board should wear one. No excuses; the National Safe Boating Council has heard them all.
Gear up. In addition to ensuring your vessel is in proper repair and good working order before you leave the dock, be sure you have the tools on board to address common mishaps. This includes items like a water-resistant flashlight, knife, duct tape, rope, whistle, lifesaver, fire extinguisher and first aid kit, bucket, drinking water and blankets.
Use caution. As with any vehicle, don't drink and drive. Keep an eye out for boating hazards like slippery decks, ropes and sails that can cause injury. Never leave children unattended.
Check your coverage. Before you set sail, make sure you have the right insurance coverage to protect your boat, as well the people on and around it. We can walk you through the three types of boat insurance and ensure you have the coverage appropriate for your situation.
Determining the right amount of coverage can be tricky as regulations vary by state and even marina, and factors like the type of boat, where you store it and where you use it all come into play. Contact us and we'll recommend the custom coverage you need, so you have nothing but smooth sailing ahead.