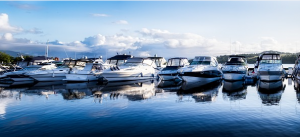 New England offers a multitude of lakes and rivers, as well as easy ocean access, for pleasure cruisers looking to take their boats out for fun in the sun this summer. Surprisingly, however, boat insurance is required in only two states, both of which are landlocked but have plenty of lakes and rivers: Arkansas and Utah. But, just because most states don't require it, boat owners would be foolhardy to not have coverage that protects their investment and assets.
There are situations in which insurance may be required on your boat. If you use your boat as collateral for a loan, your bank may require insurance. In addition, some harbors and marinas require insurance for you to dock your boat there.
While some boat owners may believe that their boat (or other recreational vehicles) are covered under their homeowners insurance, this is likely not the case. You may have limited coverage for a small boat while it's on your property, but boat insurance is necessary in most circumstances.
Let's face it; accidents happen. And without insurance coverage, you could be responsible for harm done to people and property, and those costs can mount quickly.
3 Types of Boat Insurance
Boat insurance is highly customizable and costs range. Variables include the type of coverage and the type of boat itself, including its size, age and value, as well as where it's stored.
Similar to auto insurance, you'll want to make sure your coverage protects the boat itself, liability for damage caused with the boat, and medical coverage for injuries sustained during a boating accident. There are three main types of insurance for boats:
1. Boat Insurance
This will help you get your boat fixed if it is damaged. The most common types of coverage are:
Collision: covers repairs after a collision
Comprehensive: covers repairs if your boat is damaged in a non-collision accident, such as a fire
On-water towing; covers the cost of towing if your boat breaks down on the water
2. Liability Insurance
If you are at fault for a boating accident, you can be held responsible for associated costs, putting all your assets at risk. Boat liability insurance can cover costs related to property damage and injuries suffered by others.
3. Uninsured Coverage
Because boat insurance is not required by most states, the risk of an accident with another boat that isn't insured or that doesn't have liability insurance is increased. Uninsured coverage can help cover your costs related to property damage and bodily injury that occurs when an uninsured boat is at fault in an accident.
While it may seem confusing, our experienced team can walk you through the process and ensure you have the coverage you need at a price you can afford. Contact us for an appointment soon, and then cast off for summer!