Know the Rules of the [Off] Road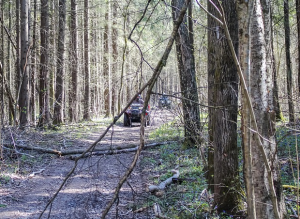 Off-road vehicle riding is a popular pastime in Massachusetts and surrounding states, but before you head off road on your ATV (all-terrain vehicle), review the following information to ensure you have the protection you need.
ATV regulations vary by state, so it's important you check out what's required in the location where you'll be riding. For example, in Massachusetts:
all vehicles must be registered
riders under age 18 must complete an operator safety and responsibility program before riding, and proof of completion must be carried by the operator
helmets are required
riding opportunities may be limited in some areas to designated trails and times of year
there are specific equipment requirements, including at least one headlight, a red rear light and reflector, an adequate muffler and more
The definition of an ATV can also vary and may include three- and four-wheelers, utility-terrain vehicles and side-by-sides. It may also include other recreational vehicles like snowmobiles and Segways.
Why You Should Get ATV Insurance
By its very nature, ATV riding comes with inherent dangers due to rough terrain and natural and man-made obstacles, low visibility in forested areas, wildlife, weather conditions and more.
While ATV insurance is not required in most states, having it just makes good sense for your personal and financial well-being. Because ATV riders are relatively exposed and unprotected, even a relatively minor accident may result in costly medical bills.
Type of ATV Insurance
There are a variety of types of coverage, but the most common are:
Collision: covers damage to your ATV in case of a collision, whether or not you are at fault
Comprehensive: helps cover the cost to repair or replace your ATV for a reason other than a collision, such as fire or theft; worthwhile if you have made a significant investment in your vehicle
Liability: provides protection if you cause injury to a person or damage to someone else's property
Medical payments: helps cover the cost of injuries or hospitalization if you or one of your passengers is injured
You are responsible for damages or bodily injuries sustained as a result of an ATV accident. ATV insurance is relatively inexpensive but can save you tremendously in terms of financial repercussions. Be safe, not sorry. Contact us to talk about your coverage before you head out this summer.