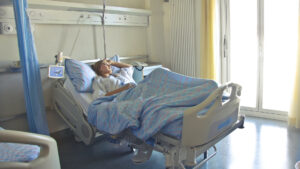 Insurance is about planning for the "what-if's" we hope will never happen, like an illness or injury that takes us away from work or leaves us unable to care for ourselves. There are insurance policies to cover both of those scenarios, but do you understand the differences between long-term disability and long-term care insurance? Both help you after you get sick or hurt, but they have different applications and provisions.
Long-Term Disability Insurance
Long-term disability insurance replaces a portion of your income if you become unable to do your job. The qualifying injury or illness could leave you unable to do your job or even any type of work. You can use these benefits for living expenses like your mortgage, utilities and groceries, but not for medical needs. It covers only a portion of the income you earned before you suffered your disability, generally between 50 to 80 percent. Coverage lasts until you are 65 or of normal retirement age as deemed by your employer depending on your industry.
Long-Term Care Insurance
Long-term care insurance pays for all or a portion of the costs associated with any care you need due to illness or injury, including receiving help at home or an assisted living or nursing facility. Policies may have provisions for how much will be covered per day or month. To qualify, you must no longer be able to perform at least two of the "six activities of daily living:" eating, bathing, dressing, transferring, incontinence or cognitive function. Unlike disability insurance, coverage only applies to medical expenses associated with illness or injury. Long-term care insurance can be used at any age and is not tied to your salary before you were injured.
Factors to Consider when Deciding on Plans
There are a few factors you should consider when weighing whether one or both policies make sense for you:
Age: Since long-term disability insurance typically ends at retirement age, it may not be worth it if you are close to retiring.
Health: Pre-existing conditions may be excluded from both types of policies and be a cause for denial of coverage. That is why it is important to apply long before you might need coverage.
Cost: Ensure you will be able to cover the cost of the plan at the price it is now and with increases over time. Long-term disability plans typically stay the same over time, but long-term care is likely to increase as you age.
Riders to policies: Investigate the riders of policies to see if payouts allow for cost-of-living increases. Without that increase, the amount the policy would pay may be significantly less than you need down the road.
Your job: Some companies provide long-term disability insurance. Look into that policy to see if it fits your needs, especially if you plan to stay with the company long-term.
For a quote on long-term disability or long-term care insurance, contact us. We can help you decide what is best for you and your family to give you the peace of mind you deserve.