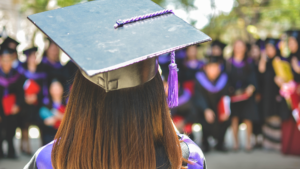 Congratulations! Your child is officially a college graduate, (potentially) leaving the nest and heading off on their own. It can be a turbulent stage both for them and for you, which is why we're here to provide the insurance basics for new graduates. We can help ensure your recent grad is properly prepared and covered for this new phase of life.
Renters Insurance
Fresh out of their dorm rooms, many college graduates will move back home, but some will set off to an apartment for the first time. While protecting the building itself is not their responsibility, coverage for their personal belongings is. Renters insurance protects from a variety of risks, including:
Loss or theft
Damage or destruction from natural disasters like fire or floods
Liability against lawsuits in case someone is injured on the rented property
Auto Insurance
Massachusetts requires four different types of coverage for auto insurance: injury or damage to others, personal injury coverage, personal property damage, and underinsured motorist coverage. You can add to these four basic areas with extensive collision coverage and comprehensive coverage to protect against large out-of-pocket payouts in the event of an accident. Comprehensive coverage makes sure your child is protected from theft or damage unrelated to a collision.
Health Insurance
No one plans to get sick or hurt, but injuries and illnesses happen—even to young, healthy people. It's crucial not to skimp on health insurance. Your graduate will have multiple options, including:
Staying on your plan until the age of 26
Enrolling in a Marketplace plan
Potentially qualifying for Medicaid
Enrolling in group coverage at their new job to take advantage of group rates for health, dental, vision and life insurance
Unique Plans for Unique Customers
Contact us today if you or your recent graduate needs assistance navigating the insurance landscape. Our team of experts is ready to provide quotes for each of these types of insurance, and design a program to suit individual needs. College graduation is a major milestone—we hope to be alongside your family for the next one.