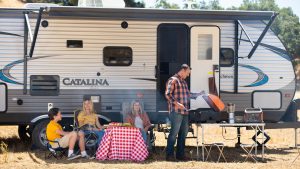 Warm weather has arrived, but before you get your recreational vehicle (RV) on the road or your boat on the water, make sure they are properly insured. Just like your car or motorcycle, some vehicles used for leisure activities require their own insurance policies. As we move into summer, here's what you need to know about insuring RVs, boats and more.
RVs
Ready to road trip with your family in your RV? Be sure you have the right insurance protection before you do. RVs and motor homes legally require the same amount of liability coverage as automobiles in Massachusetts and most other states, as these policies protect you if you cause injury to others or damage to their property. You must also have an uninsured/underinsured motorist policy, which covers injuries and damage to your vehicle if you're involved in an accident with someone without insurance.
Consider adding optional towing, collision and comprehensive insurance policies on your RV in the event you're involved in an accident or your vehicle is damaged in a storm or by vandals. If you keep belongings in your RV, you will want additional personal property coverage to protect those in case of theft. When parking at a campsite, consider purchasing optional vacation liability coverage, as this will protect you if you hurt someone or damage property while the RV is parked.
Finally, if you live in your RV for six or more months out of the year, it's a good idea to pick up full-time RV insurance. This provides more robust liability coverage, including medical payment, personal liability and loss assessment coverage.
When you're not using your RV in the offseason, storage-only insurance will cover damage from weather or theft.
Boats
Whether your watercraft is big or small, or for coastal or inland use, we recommend insurance protection for your boat, even though it is optional. This includes property coverage, which will help you pay for repairs if it's damaged in an accident, or even a brand-new one if it's stolen. These policies usually protect your boat whether it's in the water or waiting on land.
Like with RVs, liability coverage protects you if you cause an accident in your boat. Consider buying additional medical payments coverage to help pay for medical bills if you or your passengers are hurt in a crash, as well as uninsured watercraft insurance, which helps pay for expenses if an uninsured captain smashes their boat into yours.
In the offseason, ask about a lay-up policy for your boat. This reduces your existing insurance to just comprehensive and liability insurance.
Jet Skis and More
Love riding the water on your Jet Ski? Consider buying personal watercraft (PWC) insurance. Like RV or boat insurance, typical PWC insurance policies include liability and property coverage. In the off-season, keep the property coverage in case of theft or damage.
Insurance protection doesn't stop at summertime vehicles; you can also buy policies for snowmobiles, ATVs and other seasonal modes of transportation.
We Can Help
There's no such thing as a one-size-fits-all insurance policy—we know that from experience. If you have questions about insuring RVs, boats,  Jet Skis or other recreational vehicles, our team will help you create a policy with coverage that meets your needs. Reach out to us to learn more.