September is National Preparedness Month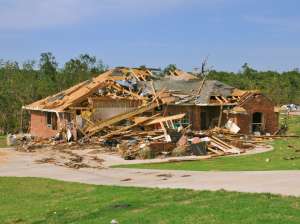 As part of a national public service campaign designed to educate and empower the American people to prepare for, respond to and mitigate atural and man-made disasters emergencies, September is National Preparedness Month. Having the right insurance coverage plays  a key role in emergency preparedness. That's why the third week is Check Your Insurance Coverage Week.
This year's theme is: Disasters Happen. Prepare Now. Learn How. Do you have the right insurance coverage for hazards we face in Massachusetts, such as flooding, hurricanes, tornadoes and blizzards?
The devastating tornadoes that hit western Massachusetts in 2011, and smaller disasters like the flooding after thunderstorms this July, remind us of the importance of being prepared. The right coverage can help you repair, rebuild or replace whatever is damaged in a disaster, but more than half of homeowners don't have the coverage they need.
Coverage to Consider
There are a lot of factors to consider when ensuring you have the right insurance coverage in case of an emergency. These range from whether you rent or own your home to where you live with relation to flooding risk. We are happy to meet with you to assess your risks, make recommendations and help you understand your coverage. This may include adding or changing the following policies:
Homeowners, including your house and other structures on your property, personal property and loss-of-use if you need to relocate temporarily
Renters, covering personal property and loss of use
Business, both for property damage and interruption of business
Flood, which is not typically included under homeowners or business property
More Ways to Prepare
Preparing for an emergency can take a lot of time up front, but you'll be glad you did it if disaster strikes. Take these other steps to be ready from an insurance perspective:
Create an inventory of your home or business that includes photos and/or videos, written descriptions of your belongings and appraisals for big-ticket items. Make sure to keep your inventory list in a secure location
Keep vital records in a safe place, such as a waterproof/fireproof box or a safety deposit box
Put your insurance policy number and contact information in an easily accessible location
Our experienced agents live and work in the same area you do, so they are perfectly suited to ensure you have the coverage you need for the hazards we all face in this region. Contact us for an appointment to review your coverage; you'll have one less thing to worry about if disaster strikes.