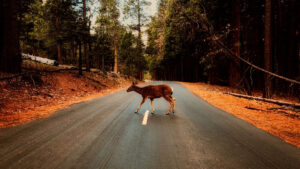 Animal-vehicle collisions happen more often than you might think.
Every year in our country, according to the U.S. Department of Transportation, between 1 and 2 million cars collide with large animals.
The average deer weighs somewhere between 125 to 300 pounds, which means the damages from wildlife-related crashes can be large, with an average of $1,840 in vehicle repairs and $2,702 in medical costs. Sometimes the collisions are catastrophic, with numerous animal deaths and 200 human fatalities annually.
Here in Massachusetts, up to 725 collisions with deer occur each year, though actual numbers may be higher since drivers are not required to report these types of accidents.
It's a good time of year to be conscious of deer along our roadways, as fall is the season where the yearlings leave their mothers to establish new territories. Moose, also found in western parts of the state, breed and are more active in the fall.
Top Tips to Prevent an Animal-Vehicle Collision
The movements of deer, moose, dogs and squirrels can be erratic and unpredictable, making for dangerous driving conditions. Here are tips to prevent animal-vehicle collisions:
At dawn or dusk, when many animals are more active, use caution.
Use caution in areas of known high animal populations, which are often indicated by roadway signs.
Use high beams on empty roads when there's no oncoming traffic to give yourself more time to spot and react to wildlife in the road.
Look for reflections from your headlights, which often catch the eyes of deer.
Apply brakes and stay in your lane if a collision is unavoidable to prevent further collisions with vehicles or fixed objects.
Always stay sober, alert, undistracted and seat-belted when driving.
Obey local hands-free driving laws that prohibit cell phone use.
Are You Covered for this Kind of Collision?
If you're involved in an animal-vehicle collision, you may face vehicle damages and injuries. As for liability, an owned animal, like livestock, is treated differently under the law than wildlife. Livestock owners may be liable if their animals get loose and wander onto the road.
Single-vehicle collision claims are usually compensated through comprehensive auto insurance and are subject to a deductible. If you're a passenger in a car that collides with an animal, you may be able to collect on the liability portion of the driver's policy.
In any event, it's worth contacting your insurance company to make sure you have adequate coverage for this scenario, or after a collision to understand your next steps.
As experts working in the insurance field for over a century, we're well-positioned to help you understand your options. You'll get the insurance you need, delivered with a personal level of service unavailable at national agencies. Contact us today.