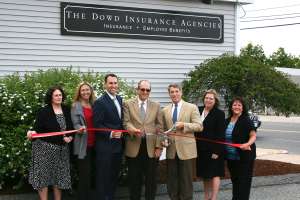 The Dowd Insurance Agencies, a leading insurance provider serving New England for over 115 years, held an open house to celebrate their newly renovated space on Main Street in Indian Orchard, Wednesday, May 20. The open house featured a ribbon cutting with the Affiliated Chambers of Commerce of Greater Springfield (ACCGS) and provided customers and neighbors the opportunity to tour the new office space.
Moskal-Dowd & Orchard-Dowd recently moved to 485 Main St., Indian Orchard, to provide more services under one roof. Moskal-Dowd was originally acquired by The Dowd Insurance Agencies in 2009; Orchard Dowd was acquired in early 2014.The new location offers easier access to agents in one convenient location.
"In an era when online and 800-number agencies proliferate, we remain what we have been since 1898: a community-based company committed to insurance professionalism with local service," said John E. Dowd, Jr., president and CEO of The Dowd Insurance Agencies. "Our new facility will allow us to provide more personalized attention to our valued customers."
The benefits of the new office include ample parking, a large conference room for meetings and, most importantly, a larger staff to provide customers a broader range of service.
The merger of the two Indian Orchard offices at one convenient location was the latest development in the legacy of The Dowd Insurance Agencies, originally founded by James J. Dowd of Holyoke in 1898. That legacy, which spans four generations, is now the oldest insurance agency in Massachusetts under continuous family ownership. Services available at the new Indian Orchard location of The Dowd Insurance Agencies include:
• Personal insurance, including: auto, homeowner, boat, RV and umbrella insurance
• Commercial insurance for businesses of all sizes
• Life insurance and employee benefits
"For more than a century, we have provided businesses and residents in the Pioneer Valley with exceptional service and we will continue to do so as a full-service operation at our new Springfield location," said Dowd. "The Dowd Insurance agencies are fully independent and not beholden to any single carrier and, as a result, we can negotiate on your behalf for the best coverage at the best price."
The Dowd Insurance Agencies leadership team includes President and CEO, John E. Dowd, Jr. and Executive Vice President and Treasurer, David W. Griffin, Sr.
See coverage on BusinessWest.com, MassLive.com, The Reminder