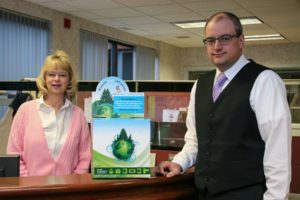 Collection boxes set up at each branch location throughout the month of May
The Dowd Insurance Agencies, a leading insurance provider serving New England for more than 118 years, today announced the launch of a cell phone collection drive to benefit The National Coalition Against Domestic Violence (NCADV). The organization, founded in 1978, works to end violence in the lives of women and men through education and advocacy efforts. The donated cell phones will be refurbished and sold or recycled, with a portion of proceeds benefiting the organization and its programs. Collection boxes will be placed at the reception desk of each Dowd branch location throughout the month of May.
According to NCADV, every minute, as many as 20 people are physically abused by an intimate partner in the United States; during one year, this equates to more than 10 million victims. "With such staggering figures, we felt compelled to make a difference," explained Dowd CFO, Jon D. Lumbra.
Seeing multiple benefits to the drive — funding domestic violence programs and additionally, environmental benefits to reusing and recycling the electronics — it was unanimously agreed the cause was a noble one and efforts to accelerate the program began. "We are honored to have the platform to raise awareness and funds for such a worthy cause," continued Lumbra.
Cellular Recycler, NCADV recycling partner, has received Responsible Recycling Certification, the highest designation from the Environmental Protection Agency and confirmation that donated materials are recycled safely and reliably. Lumbra explained, "There is no need to clean or wipe information from the cell phone you wish to donate."
"All donated electronics are either refurbished and resold or recycled for parts," he furthered. "If refurbished, all of the item's software is replaced which completely wipes all stored information on the device. If the item is recycled, it is crushed down during the process, making data retrieval impossible."
To date, an estimated 3 million cell phones have been kept out of waste-sites due to the efforts of NCADV and Cellular Recyclers. Items donated fund programming that empowers domestic violence victims, connects survivors to helpful and potentially life-saving resources, impacts legislation aimed at ending domestic violence and gives support to organizations across the United States working to stop violence in the home.
Those interested in donating a cell phone to the drive may do so through the month of May by visiting a Dowd location in Holyoke, Southampton, Hadley, Indian Orchard or Ludlow.
Read the news coverage on Business West