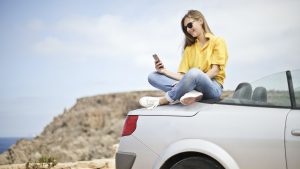 We get this question a lot: should I purchase rental car insurance? Whether you are traveling for business or for pleasure, the answer is a resounding…maybe.
Typically, your personal auto insurance should extend to your rental car. Depending on the state in which your policy is issued, your rental vehicle is most likely covered by collision or liability coverage. In Massachusetts, your auto insurance policy covers you throughout the U.S. and its territories, as well as Canada.
However, you may still want to add additional insurance coverage in some cases:
If you are listed in the rental agreement, your insurance only covers you as the driver. Your coverage doesn't apply if someone else is at the wheel, so you want to be sure all drivers are listed and insured.
When renting a car in countries other than the U.S. or Canada, you will likely need to purchase coverage through the rental agency.
If you are renting a luxury or specialty car, you may want to purchase extra coverage as damage and repairs will be more costly.
Your personal policy does not cover the loss of use of the rental vehicle. If you are in an accident that takes the vehicle out of circulation while being repaired, the rental company may bill you for the period of time they can't rent out the vehicle.
3 Things to Check
When renting a car, you want to make sure you are covered in case of an accident or theft, but you don't want to pay for duplicate coverage. Check your policy or give us a call to talk about your specific coverage before you rent a car. In most cases, comprehensive and liability coverage extends to vehicles you rent, and your homeowners or renters insurance will cover your personal items if they are damaged or stolen.
You'll also want to check with the credit card company for the card you're using to pay for the rental. Some provide secondary coverage that may help cover any gaps in your auto insurance coverage. Again, it's helpful to know this up front.
Finally, check to see what the rental car company's insurance policy covers, so you know what you are paying for if you opt-in. Pay attention to any limitations, restrictions or requirements that may impact coverage in the case of an accident. For example, coverage may only apply within certain geographic limits.
Safe Travels
Following these three steps will ensure you have the protection you need while driving your rental car and will streamline the process and reduce stress at the check-in counter. We also advise that you bring a copy of your current auto insurance policy with you when you pick up your rental as some companies require proof of insurance.
If you have any questions about your coverage or want to talk through your options, don't hesitate to give us a call.