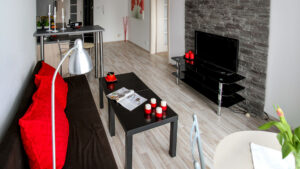 For a college student living away from home for the first time, there's a lot to consider: creating a schedule, managing money and making new friends, just to name a few. With so much to do, it's clear why dealing with insurance isn't a top priority. But it's critical to know where you stand and how to protect yourself, so we're providing you with the top three renters insurance tips for college students.
1) Understand Your Coverage
The first step is to understand exactly what renters insurance covers and how it could specifically protect you. Unlike homeowners insurance, you are not responsible for your building, but you are covered for:
Personal belongings: furniture, clothes or other objects if they are stolen or destroyed in an insured disaster. Certain high-value items like jewelry may require additional coverage.
Liability: lawsuits for bodily harm or property damage caused to others on the property.
Are college students covered by their parents' renters or homeowners insurance? Yes and no. For example, students who commute from their family home and those who live in on-campus school-affiliated housing are covered under their parents' policy. In these situations, you should still have an expert look over the details of the policy to ensure adequate coverage can be provided.
Even if you don't require a new policy, you may need endorsements or additional coverage for certain high-value items. On the other hand, if you live in off-campus housing, you will likely need your own policy, but may be able to bundle with your parents.
2) Don't Share a Policy With Your Roommate
It may seem like a good idea to split your policy with a roommate, but you should avoid this option at all costs. The upside is negligible, with policies generally ranging from $10 to $15 a month. But the downside can stick with you for a while—any claim you file on the policy will stay with you for several years, regardless of whether you or your roommate filed it. That means you could be paying increased premiums for something you had nothing to do with long after the living arrangement ends.
3) Don't Skimp on Liability Protection
Finally, purchasing liability coverage may seem less important than covering your personal belongings, but the costs can really add up if you don't protect yourself. Liability insurance covers the cost of injuries if someone is hurt in your apartment or off-campus home if their insurance doesn't completely cover their medical bills. You may also be protected if they decide to file a lawsuit in relation to the injury.
No matter what your living situation is for the upcoming school year, reach out to discover how we can help protect you and your possessions.