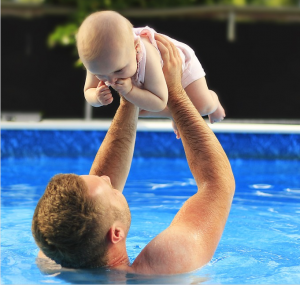 Splashing around in a backyard pool is a refreshing way to cool off on a hot summer day, but before you dive in, make sure you have the right insurance protection and safety precautions in place.
Required Pool Protection
If you have a pool, or plan to get one, be sure it complies with state laws and local ordinances that have very specific regulations about pool fences, gates, locks and latches.
You'll also want to talk with your insurance provider to make sure you have the necessary coverage, both in terms of covering any costs related to accidents and injuries, and to cover the costs for repair or replacement in case the pool and its related items are damaged in a storm, fire or other disaster.
At a minimum, you'll need to make sure the pool is included on your homeowners insurance policy, but you may need additional liability coverage, or, depending on your assets, umbrella coverage.
Safety Pays
A pool is considered an "attractive nuisance" by the insurance industry because while it can provide much enjoyment, it also increases the risk of injury or death if safety precautions are not taken.
Injury and drowning can happen fast, even in shallow water. The following safety tips should be clearly understood by everyone who uses your pool:
Never leave children unsupervised in or around the pool area, not even for a minute, even if they have flotation devices.
At gatherings, designate at least one responsible adult to keep watch over the pool at all times, taking turns if necessary.
Learn and have your family learn basic water rescue skills and CPR.
Keep small children away from filters and drains, and make sure everyone knows how to turn off filters and other pool equipment.
Teach children to swim as early as possible; however, even children who can swim should always be supervised.
Remove toys and floats from the pool when not in use to reduce the temptation for children.
Keep the diving area clear in an in-ground pool; diving should never be allowed in an above-ground pool or in water outside the designated diving area of an in-ground pool.
Limit alcohol use around the pool.
Check regularly for hazards around the pool, like glass bottles and electronic devices. Use plastic ware instead of glass in the pool area to reduce the risk for cuts and damage.
When the pool is not in use, even if only temporarily, be sure access is prohibited by using the appropriate latches or locks.
If you take the proper precautions, you'll be better able to relax and safely enjoy your pool all season long. Contact us to learn more.