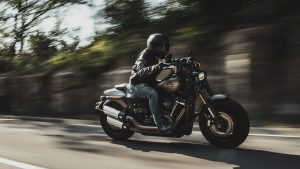 For most avid bikers, there's nothing more freeing than hopping on a motorcycle to take in nature and feel the wind whip on the open road. But for those who live in New England, the winter brings dangerously icy streets and snowy conditions, which means motorcycles usually stay in storage until spring brings warm temperatures once again. If you own a bike, you must have insurance to cover any accidents that might occur during the riding season. Still, you can save during the off months by suspending some unnecessary coverage with a motorcycle lay-up policy.
Read on to learn more about this policy and why you should purchase one for your motorcycle during the winter months.
What Is a Motorcycle Lay-Up Policy?
Insurance coverage requirements for motorcycles vary by state, but if you aren't planning to ride your bike during the winter, you don't need to keep paying for the usual coverage you have for the driving months.
Instead, consider purchasing a lay-up insurance policy for your motorcycle. This option suspends all coverage except for comprehensive, which will cover your bike in case of theft or damage. You can't ride your bike with this insurance, but you'll save money and have the peace of mind that your property is protected while it sits in storage.
While you could cancel all your motorcycle coverage in the winter, the minimal savings provided do not make up for the increased risk, as you wouldn't be covered if your bike was damaged or stolen during the off-season.
Get the Protection You Need with Us
Still not sure how to handle your motorcycle insurance as the winter begins to set in? Don't delay; our experienced team will help you get the coverage you need and the protection you want. Reach out to get started.