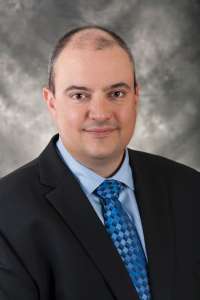 The Dowd Agencies, LLC, a leading insurance provider serving New England for over 115 years, has appointed Chief Financial Officer Jon D. Lumbra as the new managing partner of Dowd Financial Services.
"This is a natural progression of responsibility and oversight for Jon," said John E. Dowd, president and CEO. "He brings nearly two decades of experience in financial services to the table, including the past year as chief financial officer with our firm. He is known for his breadth and depth of knowledge, positive working relationships and professionalism."
Lumbra, a resident of Southampton, succeeds R. Kirk Mackey, who will remain as a producer of the firm. Lumbra is the former city treasurer of Holyoke and a graduate of Southern New Hampshire University, where he earned a degree in criminal justice, with a minor in corporate espionage.
"Dowd Financial Services continues to expand through the growth of our existing clients and through the acquisition of new clients in New England and throughout the country," said Lumbra. "We have an excellent platform, in terms of staff and structure, to continue to maximize and create opportunities wherever they exist. I'm excited about our trajectory."
David W. Griffin, Sr., executive vice-president and treasurer of The Dowd Agencies, explained that Dowd Financial Services helps employers navigate the requirements to identify the optimal benefits for their workers, so employers can better focus on their everyday business concerns.
"We assist employers with designing health and welfare benefit programs, drafting necessary plan documents and communications, and negotiating third-party administration agreements, insurance contracts, direct-contracting arrangements, other provider agreements and administrative services," said Griffin.
"Clients turn to our team for advice about how to structure a flexible benefit arrangement or redesign a health program to make it cost-efficient and consumer-driven for active employees or retirees using health spending or reimbursement plans," furthered Lumbra. "For companies interested in consolidating plan documents and streamlining annual reporting with the IRS, we help implement a consolidated or 'wraparound' welfare benefit program. We can also help our clients determine whether funding any welfare benefit programs through a voluntary employee beneficiary association would be advantageous."
He continued, "We are also focused on defined contribution plans, including their design and operation. With a business-oriented approach, we help companies design plans that reduce administrative burdens and costs, coordinate with other retirement plans, increase employee participation rates and address non-discrimination testing risks. Client also benefit from our seasoned counsel on plan fiduciary considerations, including 401(k) fee issues and the maintenance of company stock funds."
Lumbra also donates his time to many local organizations. He is the president of the local Knights of Columbus Council #90 board of directors, sits on boards for both Pathlight and the Miracle League of Western Massachusetts, and is a panel member of the Taxpayer Advocacy Panel Federal Advisory Committee. He is also the past chair of the Holyoke Visiting Nurse Association & Community Health Foundation, the past president of the Holyoke Rotary Club and past board of directors member of Holyoke Medical Center.