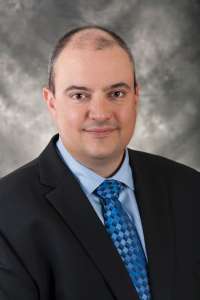 The Dowd Insurance Agencies, a leading insurance provider serving New England for over 115 years, today announced the appointment of Chief Financial Officer, Jon D. Lumbra.  A resident of Holyoke, Lumbra will be responsible for directing the fiscal operations of the business and supervising the accounting department. In addition, he will assist in the planning, establishing and maintaining of current systems and procedures.
"We are pleased to welcome Jon to the team," said David Griffin W. Griffin, Sr., executive vice-president and treasurer of The Dowd Insurance Agencies. "He is an excellent strategic and cultural fit whose breadth and depth of knowledge will help strengthen our brand and provide the best service to our customers and employees," Griffin continued.
Lumbra brings nearly two decades of experience in financial services to The Dowd Insurance Agencies. His past experience includes working for The Loomis Communities, The City of Holyoke and Spectrum Analytical. He is a graduate of Southern Vermont College and holds a degree in criminal justice and minor in corporate espionage. He is currently working toward his MBA at University of Southern New Hampshire.
"The Dowd Insurance Agencies is one of the oldest insurance agencies in Massachusetts and its headquarters remain in the city of Holyoke, where the business was started 118 years ago. Making positive contributions to the success of our community has always been important to us, which is why Jon is a great addition to our business. He has demonstrated these shared values by volunteering his time to support many organizations — many of which are based in Holyoke, Jon's hometown," said John E. Dowd Jr., president and chief executive officer of The Dowd Agencies.
Lumbra is the president of the local Knights of Columbus Council #90 board of directors, former executive board member of the Massachusetts Government Finance Officers Association, a member of the Holyoke Taxpayers Association and a panel member of the Taxpayer Advocacy Panel Federal Advisory Committee. He is also the immediate past chairmen of the Holyoke Visiting Nurse Association & Community Health Foundation, the immediate past president of the Holyoke Rotary Club and board of director member of Holyoke Medical Center. Lumbra lives with his wife Patricia and three children in Holyoke. His wife is a native of Easthampton.
Please see the news coverage here: Business West  and  Masslive