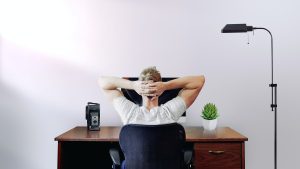 Over the course of the COVID-19 pandemic, working from home has become more typical for the American workforce. As cases once again rise from the Omicron variant, this model may be here to stay for many. If it becomes a long-term—or even permanent—fixture in your life, here's what you need to know about protecting yourself and your belongings by supplementing your homeowners insurance while working from home.
The Effect on Homeowners Insurance
First, it's important to realize that homeowners insurance is completely separate from your employer's business liability insurance, and the risks you face as a homeowner are completely different than those you face as an employee. No matter the policy, your homeowners insurance will have four essential types of coverage:
Structure: covers costs to rebuild a home destroyed by certain disasters
Personal belongings: covers furniture, clothes or other objects.
Liability: covers against lawsuits for bodily harm or property damage caused to others.
Additional living expenses: covers the costs of living away from home.
Generally, your homeowners coverage will cover your lost or destroyed items without limit (subject to your deductible), but not when they're used for business purposes (like working from home).
The Responsibility for Coverage
As a full-time employee at home, it's likely your employer's responsibility to provide you with the previously mentioned business liability coverage. This protects you if a customer has an accident or injury on your property or if your personal belongings are lost or destroyed.
But there are limits—most policies only provide $2,500 business equipment coverage for "business items" inside your home. This may seem like a lot, but what if your laptop, cell phone, desktop computer, tablet and printer are lost or damaged in a house fire or a burglary? Is $2,500 enough to ensure you're covered?
How Can We Help You?
If you want more coverage than business liability can offer, we can help you add to your homeowners policy with an incidental office occupancy endorsement, which covers some business activity taking place in your primary dwelling. This would increase the coverage for your property when used for business purposes, providing that much-needed supplemental coverage.
Additionally, we can help you find some ancillary benefits while working from home. For instance, if you're at home for the long haul, that probably also means you're spending less time on the road—which also means you might be able to get a lower rate on your car insurance.
Want to learn more? Contact us to set up an appointment for an insurance review. We'll talk with you about any changes that may impact your rates, and let you know if there are ways you can save.