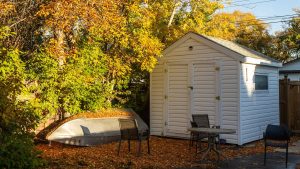 Given its name, it's easy to deduce that a good homeowners insurance policy should cover the cost to repair or rebuild your home in the event of an accident. But does homeowners insurance cover unattached structures on your property—such as gazebos, sheds or detached garages—if they are damaged? What about the personal items or furniture that you store inside them? In this blog, we review what you need to know.
Other Structures Coverage
Homeowners insurance varies in terms of coverage, but in addition to covering the cost to fix your house, your policy will typically cover the cost to repair or rebuild unattached structures on your property. This is a part of your policy called "other structures coverage," which includes docks, tool sheds, fences, detached garages, driveways and more. Your home and its attached structures are usually covered by "dwelling coverage" in your homeowners insurance policy.
Other structures are usually covered for the same perils as your home, such as damage from fire, hail and wind. But be aware; just like for your house, your policy might not cover every peril that affects unattached structures, including flooding, earthquakes, deterioration over time and damage from pests. An additional insurance policy is required for those risks. If an unattached building on your property is used for business purposes, it's probably not covered by your homeowners insurance, so check with your insurance provider and buy business insurance if necessary.
Personal Property Coverage
So, what about the belongings you store inside, like furniture, tools and equipment? Good news. The personal property coverage baked into your homeowners insurance policy provides coverage for those items, no matter where you store them on your property.
For example, if your gazebo burns down, your policy should cover the cost to replace the structure and any furniture or other items within it. It's still a good idea to confirm your coverage with your insurance agent, however, especially if you have big-ticket items, such as an outdoor TV. An umbrella policy may be necessary to ensure full coverage. The same is true with recreational vehicles, such as a boat or an RV, that you may store in a garage or elsewhere on your property, which may require additional coverage.
Protect Your Property with Us
Need to buy homeowners insurance but not sure what level of coverage you need? Our knowledgeable team of insurance agents will partner with you to determine your needs and find an insurance policy that you can afford. Reach out to us today to get started.