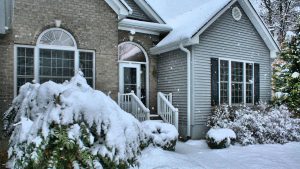 New England certainly isn't known for mild winter weather—between snowstorms, freezing days and sleet, Jack Frost always makes his mark on much of the northeast. Winter weather brings school cancelations, road closures and other inconveniences to our lives, but it can also be dangerous to people and property. For those who own a home, there are important steps to take to protect your residence from the hazards winter can bring. As the dark days set in, we're looking at why it's important to buy home insurance for winter weather to protect your property from the elements.
The Damage Winter Weather Can Bring
Let's face it, bad winter weather is bound to happen at some point during the cold months. But severe weather events can cause more than just external damage to your home.
While the winds of a nor'easter can send trees and other things into your house and damage the structure, weather like this can also cause major water issues, such as freezing pipes. Frozen pipes can create an intense amount of pressure that can cause the pipe to burst. In addition to being out of any running water, freezing pipes can also cause serious flooding issues that can further damage the structure of a house or the belongings inside of it.
Falling trees, heavy snow or ice can also cause damage to your home. Too much snow or an errant tree in your backyard can cause your roof to cave in, causing water to seep in and destroy your property beyond the structural damage such an event would cause. Ice in gutters can also cause water to enter the home if it is left unattended for extended periods of time, and big chunks of ice on a roof can fall and damage your property.
Homeowners Insurance Can Save The Day
Luckily, homeowners insurance is here to protect you and your family against the elements. While this type of insurance varies regarding coverage, there are basic things that will likely be protected under a plan.
A good homeowners insurance policy should cover:
The cost to repair or completely rebuild your home and structures on your property.
Hotels and living expenses if you can't live at home during repairs.
Most personal belongings, from furniture to clothes and appliances.
Liability for damage or injury lawsuits.
The story is a little different for those whose home is a condominium since condo associations usually have master policies that cover the property, common areas and other structures. It is still prudent to buy condo insurance, as these master policies usually don't cover personal property, any customizations you've done to the unit, injuries that happen at your place or the resulting lawsuits you might face. That means that if a pipe bursts and you're suddenly wading through water in your living room, condo insurance would help protect your furnishings.
We Can Help
Assessing insurance policies for a home or condo can feel like a daunting task, but our insurance experts are here to take the burden off your shoulders. Reach out so we can help find the right home insurance for winter weather coverage for you.