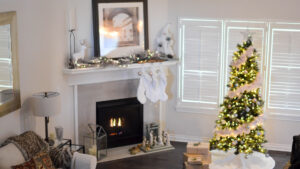 When you are decking your halls for the coming holidays, remember that not everyone is wishing you season's greetings. The peak time for home burglaries is the summer, but we see another spike in December when burglars target homes for their gift-taking potential. Here we offer some holiday home security tips to help maximize your holiday joy.
Check this List Twice
There is a lot of excitement surrounding the holidays, and it can be hard to contain our delight. However, exercising some common sense can go a long way in keeping your home from standing out to the wrong people.
A big Christmas tree, especially one with lots of packages below, is like a neon sign in your front window. Decorate to your heart's delight, but close curtains and maintain a little mystery about what a potential burglar might expect to find. Avoid having presents piled where they can be seen from outside.
Arrange for a place that's not right out in the open for package deliveries, and provide shippers directly with instructions for delivery if you aren't home. Leaving a note on the door will lead burglars straight to the loot.
Don't broadcast when your home will be empty by posting event and vacation photos to social media while you are away. Wait until you are back at home to share.
Take steps to prevent your home from looking empty while you are away. Put a hold on your mail and paper, arrange to have your driveway and sidewalk shoveled, and set timers for lights to go on and off.
Putting the empty box for a high-cost item—like a new flat-screen television—in front of your house for trash pickup is like putting a billboard on your front lawn broadcasting your valuables. Break down boxes so that you can fit the pieces in your recycle bin or an opaque bag.
Smart Help for Holiday Home Security
One of the simplest steps you can take to increase your home security, and not just during the holidays, is to get a security system. In fact, according to safewise, studies have shown that as much as 60% of burglars casing a potential target would be deterred by an alarm system. And if you have a system, be sure to announce it with signage or stickers on doors and windows.
Security systems for your home range in cost from the simplest, which feature only a very loud siren that can be heard by neighbors, to comprehensive packages that include sirens, cameras and live monitoring. The good news is that adding a security system can result in a discount on your homeowners insurance, which can help offset the cost. Even more significant, an alarm system may be just the deterrent you need avoid having to file a costly claim in case of a robbery.
There is a wealth of smart technology that can further increase the security of your home. A few examples:
Cameras in doorbells or above doors can deter "porch pirates" from stealing packages or help identify culprits in case of theft.
Smart locks and cameras allow you to remotely open a door for a delivery person to secure a package when you aren't home.
Affordable smart outlets and lightbulbs let you control your home lighting from your phone even when you aren't there, making your house look inhabited while you are away.
Bonus: In addition to helping you protect your own home, these items also make great holiday gifts for your loved ones.
We wish all of you a safe, happy and healthy holiday season. If you have any questions about your homeowners insurance, including potential discounts for security systems, just give us a call.