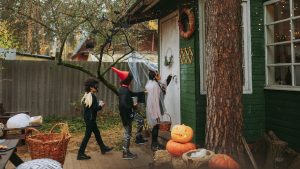 Halloween is just around the corner, which means young trick-or-treaters will soon be making their way to the nighttime streets to satisfy their sweet tooths and engage in the holiday's make-believe horror. But this festive evening can quickly turn into real-life horror if you don't take the necessary precautions. As we ramp up for the holiday by watching scary movies and telling ghost stories, make sure to keep these Halloween safety tips in mind so you can have a fun night to remember.
Home Safety
First and foremost, it's important to have homeowners or condo insurance so you are covered if faced with an injury lawsuit from an accident that occurs on your property. You can also supplement your home's insurance policy with personal umbrella insurance for a higher limit of protection in the event someone is injured on your property or while they are under your care.
After you have that in place, and before Halloween night, make sure to survey your home for anything that might put someone else in danger. Consider taking the following precautions:
Sweep away leaves and brush on walkways and sidewalks to prevent slipping.
Ensure there is adequate outdoor lighting.
Move Halloween decorations (including electrical cords) away from walkways to prevent trips and falls.
Carefully place extension cords to prevent tripping.
Use electric candles outside.
If you are planning to have visitors inside your home on Halloween night, there are other steps you can take to avoid accidents. Put your pets in another room, make sure Halloween decorations aren't obstructing indoor pathways and keep candle safety in mind. If you're leaving your house, lock the doors and windows and extinguish candles.
Costume and Trick-or-Treating Safety
If your kids and are planning on dressing up this Halloween, there are some important precautions you can take to ensure their costumes are safe to wear. This includes buying fire-resistant costumes, wigs and accessories as well as making sure that all Halloween makeup is nontoxic.
When the time comes to go out into the neighborhood for trick-or-treating, children should be supervised at all times by a responsible adult. Put reflective tape on their costumes and give them flashlights for better visibility. Even if they are with another adult, know where your children are planning to go and when they will be back. Remind them to always look before crossing a street, never run into the street and stay alert while walking in the neighborhood.
Insurance Doesn't Have to Be Scary
Choosing insurance shouldn't strike fear into your heart—our experienced insurance agents will guide you through the process so you can get the coverage you need at a price you can afford. Whether you need homeowners or condo insurance for the very first time or want to add personal umbrella insurance, our team will help you every step of the way. Reach out to get started.