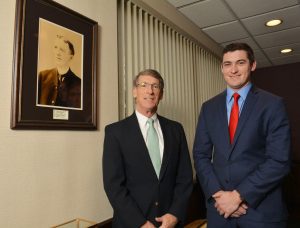 Written by Keith O'Connor, Special to The Republican
No story about the Dowd Agencies – the oldest insurance agency in Massachusetts under continuous family ownership – and its tremendous growth over the years can be told without a little background history first.
Like many Irish immigrants who came to settle in Holyoke, James J. Dowd arrived in the Paper City in 1865 to build a better life for himself and his family.
While Dowd worked in a textile mill, one of his sons would go on to create a legacy spanning five generations of Dowds. That son was his namesake, James J. Dowd, great-grandfather to John E. Dowd Jr., who today is president and CEO of the Dowd Insurance Agencies.
 "My father, who I miss every day, died when I was in the 10th grade. So, by the time I was old enough to develop a curiosity about our history, he wasn't around to share his memories with me. But I did learn quite a bit from my aunts and uncles," says John Dowd, who joined the agency in 1982.
What he did learn was that his great-grandfather worked as a stock boy for a number of years in a grocery market in Holyoke owned by Otis Doolittle, eventually buying the store from him and becoming a business owner at a relatively young age.
"From there, he started to gain some notoriety in Holyoke, where he was very civic minded and a devoted communicant at St. Jerome's Church. He eventually became a member of the city's Board of Assessors and went on to chair it," Dowd said. "Then, one day the mayor approached him asking to assess his friend's house at a certain value, which he refused to do. So, he was unceremoniously dismissed from the board and that is when he went ahead and founded the agency back in 1898. At that time, there were no cars, but plenty of horses and all kinds of wildlife running up and down the streets of Holyoke. As for how he settled on insurance, I don't know."
Now more than a century later, the Dowd Agencies has established strong relationships with a wide spectrum of A-rated insurance carriers and offers personal and business insurance, as well as employee benefits and planning for individuals and businesses.
In the late 1980s, the agency embarked on a strategic plan that included both organic growth, which Dowd says it has "always been committed to," alongside growth by mergers and acquisitions.
It began by creating the Cray-Dowd Insurance Agency in Amherst in 1989, which recently moved to Hadley. Since then, it has expanded its footprint into other communities with offices in Southampton, Indian Orchard and Ludlow.
The Dowd Agency reaffirmed its commitment to growth when last June it announced it was entering into a strategic alliance with a subsidiary of the Quincy Mutual Group.
Through Quincy Perpetuation Partners, the new subsidiary, Quincy Mutual, invested in a 20 percent ownership position in the Dowd Insurance Agencies, which continues to operate as an independent, family-owned business.
"When Quincy Mutual Group shared their vision and goals for Quincy Perpetuation Partners – to help locally owned independent agencies grow organically and through acquisition -we were all ears," Dowd said in an earlier interview with The Republican. "What (Quincy Perpetuation Partners) offers fully supports what Dave (David W. Griffin, executive vice president and treasurer of the Dowd Insurance Agencies) and I want to accomplish, which is to ensure that the firm continues as a growing, family-owned, and regionally strong independent agency."
Dowd said the agency, as a longtime fixture in the Holyoke community, carries on his great-grandfather's civic mindedness.
"I think like many other businesses, we bring jobs into the community. But as a business person it goes beyond that," Dowd said. "You must become involved in various organizations, from Rotary to your chamber of commerce. We've done all that over the years and have volunteered an enormous amount of time, expertise and resources in so many ways, for example, supporting Little League teams. Now, our footprint is even larger and extends into communities other than Holyoke, where we are giving back as well."
Asked what his great-grandfather would be surprised to learn today about the agency he founded, Dowd answers: "The pace."
"The pace has changed dramatically over the years. Technology, which I'm not sure was even a word back then, at least not in the context it is used today, has allowed us to do things a lot faster and more efficiently," he said. "Otherwise, the business hasn't changed much in over 100 years. We are still protecting people's assets against catastrophic loss. It is still a relationship business with our customers buying from people they know and trust, and this is what really has sustained our business over the years and will well into the future."
And that future is all but guaranteed to continue under family leadership as Dowd's son, the fifth generation Jack Dowd, has joined the business after holding several positions with Goji Insurance in Boston.
"I've always said to my children that this business has been around for a very long time, and that if they have a serious and not just a passing interest in it, then there is a place for them here," Dowd said. "But if they can't bring all their passion, excitement and enthusiasm to it, then they should find something else that they can bring it to."
See the coverage on Masslive