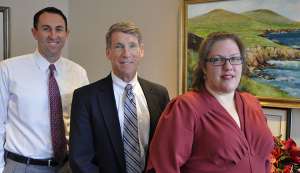 Pictured from left to right: David Griffin Jr., John E. Dowd, Jr., and Melissa Salois-Blood. by Mark Roessler The Dowd Insurance Agency first started working with the United Way 40 years ago when both organizations had offices in downtown Holyoke.
"When I started with the agency in the early 1980s, it was a different time back then," said John E. Dowd Jr., the president and CEO of the company. His great grandfather founded the business in 1898. "Downtown was a bustling business community. Lawyers and accountants and other business people were all within walking distance of one another. We'd see them at the local lunch counter every day."
As such, news travelled fast. When disaster struck a family or a business, people could react quickly to support the survivors.
"And if someone needed members for a new organization or committee," Dowd said. "All they'd have to do is ask you when they saw you."
Since then, of course, things have changed. While the city has struggled economically, Dowd Insurance has grown and their business now has five branch offices, serving clients across the region. Dowd's headquarters have also expanded into a more convenient office park a few miles from their old location.
In many ways, the United Way has become the new commons where local leaders and volunteers can connect to address community needs.
"We've always been strong believers in being part of the community," Dowd said. "It's written into our mission statement. We've tried over the years to always increase the amount we donate to the United Way by a little bit, but we don't think it stops there. You need to be involved, giving your time and talents, making sure that the organization remains viable, because they're so critical to our community."
"Working with the United Way has been a nice fit," David Griffin Jr. agreed. Griffin works as an account executive for the agency, and his father is the executive vice president and treasurer. "As we've grown, it's been great to be able to grow with the United Way and what they've been doing in the communities we serve."
Continue Reading at United Way of Pioneer Valley