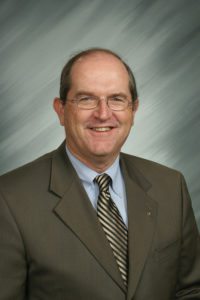 The Dowd Insurance Agencies, a leading insurance provider serving New England for more than 118 years, today announced that David W. Griffin, Sr. was selected as the treasurer for the new Pope Francis High School board of directors.
Pope Francis High School is a faith-based college preparatory school serving grades 9-12, formed through the merger of Cathedral and Holyoke Catholic high schools. Currently operating out of the former Holyoke Catholic building, a new, state-of-the-art facility is under construction on Wendover Road in Springfield and is slated to open for the 2018-2019 academic year.
Griffin said, "I have strong ties with both legacy schools – I'm an alumnus of Holyoke Catholic and three of my children were educated at Cathedral. Participating on the new Pope Francis High School board is one way I can help ensure that Catholic secondary education remains a viable option here in the Pioneer Valley."
David Griffin is a principal and the executive vice-president and treasurer of The Dowd Insurance Agencies. Dave has more than 35 years' experience in the insurance industry. He is a Licensed Insurance Advisor (LIA) as well as a Certified Insurance Counselor (CIC).
A resident of West Springfield, Griffin is also very active in the community. He has served as the president of the West Springfield Chamber of Commerce, West Springfield Rotary, Holyoke St. Patrick's Parade Committee, Springfield Country Club, Hampden County Insurance Agents and Chair of Mont Marie Health Care Center.
The groundbreaking ceremony for the new Pope Francis High School took place Sunday, September 18.
Please see the coverage here: BusinessWest  and  Catholic Communications News