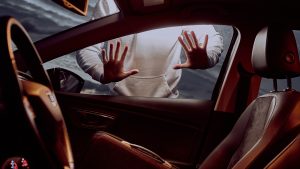 It's an unfortunate scenario that you hope will never happen: you're running late on a cold winter morning, only to step outside and find that your car has been broken into—and some personal possessions have been stolen. Although you might kick yourself for not being more careful, you ask yourself: What do I do now?
While you can't time-travel into the past to prevent this incident, there are some immediate actions you can take that will help you in the long run. In this blog, we're going to detail what you should do if you're the victim of a car break-in, as well as what proactive measures you can take to prevent criminals from targeting your ride in the future.
What To Do if Your Car Is Broken Into
Getting back to our hypothetical scenario, the first thing you should do is call your local police department on the non-emergency line. Explain to the police everything you know, and make sure to file a police report so there is a record—your insurance company will probably ask for this later. Next, document the scene with your cell phone's camera to the best of your ability. If you believe your debit or credit cards have been stolen, make sure to cancel them as soon as possible and ask for new ones.
After following these steps, you should file an insurance claim. Physical damage to your car sustained during a break-in, such as a broken mirror or smashed window, should be covered by your comprehensive. While you may think auto insurance also covers your stolen personal possessions, this type of coverage is typically part of your renters, condo, homeowners or personal umbrella insurance.
Luckily, filing an insurance claim has never been easier. If you have a policy with us, you can find everything you need to file an insurance claim 24 hours a day, seven days a week, on our website.
Prevent a Car Break-In
Of course, there are precautions you can take to make your car a less likely target for break-ins. Make sure to:
Lock your car doors and fully close the windows every single time you exit. Some thieves will simply open your car door to access what's inside.
Don't leave valuables in plain sight. If someone is scoping out cars with the intention of breaking in, the sight of expensive sunglasses or another expensive item might be what motivates them to follow through.
Park in a well-lit area. A thief may think twice about committing a crime if there is no cover of darkness.
We'll Help You Get the Insurance You Need
If you aren't confident that your current policies will provide sufficient coverage in the event of a car break-in, our experienced team can help. We offer auto, renters, condo, homeowners and personal umbrella insurance that will give you the peace of mind you deserve. Contact us today to get started.